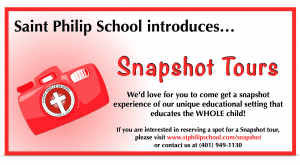 Are you a prospective family, a grandparent of a current student, or a business partner in our community, just to name a few connections that you may have? We'd love for you to come get a snapshot experience of our unique educational setting that educates the WHOLE child! Our tours are designed to provide guests with an introduction to our program that is structured around the complete spiritual, emotional, physical, and intellectual formation of every student.
If you are interested in reserving a spot for a Snapshot tour, please go to: www.stphilipschool.com/snapshot
or contact us at (401) 949-1130.