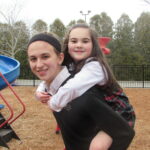 One of the most endearing and inspiring endeavors at Saint Philip School is our Buddy Program! Initiated many years ago by a former longtime SPS Kindergarten teacher, Diane Ahern, this program involves pairing young students in Kindergarten, Grade 1 and Grade 2 with older students in Grades 6, 7, and 8.
The program has expanded over the years to include Pre-Kindergarten students, who are paired with students in Grade 5, and will soon include our Little Cardinals (3 year olds) with Grade 4 students!
As much as possible, the students continue to be paired with the same 'buddies' as the years go by, until the older ones graduate and the younger ones are nearly ready to step into the role of 'older' buddies!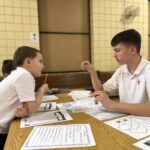 Students read together, work on projects, celebrate holidays and birthdays, and enjoy themed parties together. Many buddies even choose to get together for activities outside of school hours.
Eighth-grade students are often present at the special sacraments of their younger buddies (First Penance, First Communion), and the second graders love to help celebrate the graduation of their buddies by attending the 8th Grade Commencement Mass and Reception, resulting in many touching and emotional farewells.
The companionship and mentoring that takes place is priceless, and the friendships that form between buddies will often last throughout their years of enrollment at SPS and even beyond!