"And now I give you a new commandment: love one another. As I have loved you, so you must love one another. If you have love for one another, then everyone will know you are my disciples." John 13: 34-35
In an effort to live by the tenets of Catholic social teaching and our school's motto of "inspiring service," Saint Philip School offers students many opportunities to serve others throughout the course of each school year. Students regularly serve as readers, gift bearers, choir members, and altar servers for our school Masses, and as student ambassadors during our annual open house days. Participation in occasional voluntary dress down days allows students to make small donations for selected charitable causes.
Donations to the parish Saint Vincent dePaul food pantry are collected all year long, with many generous families adding a non-perishable food item or two to their weekly food shopping list and sending it to school for those in need. Students in various grades have organized many service projects over the years, including blanket-making ventures, hat and mitten collections, and sales of handmade articles for the benefit of local non-profit organizations.
Our commitment to the Catholic social mission must be rooted in and strengthened by our spiritual lives. In our relationship with God we experience the conversion of heart that is necessary to truly love one another as God has loved us.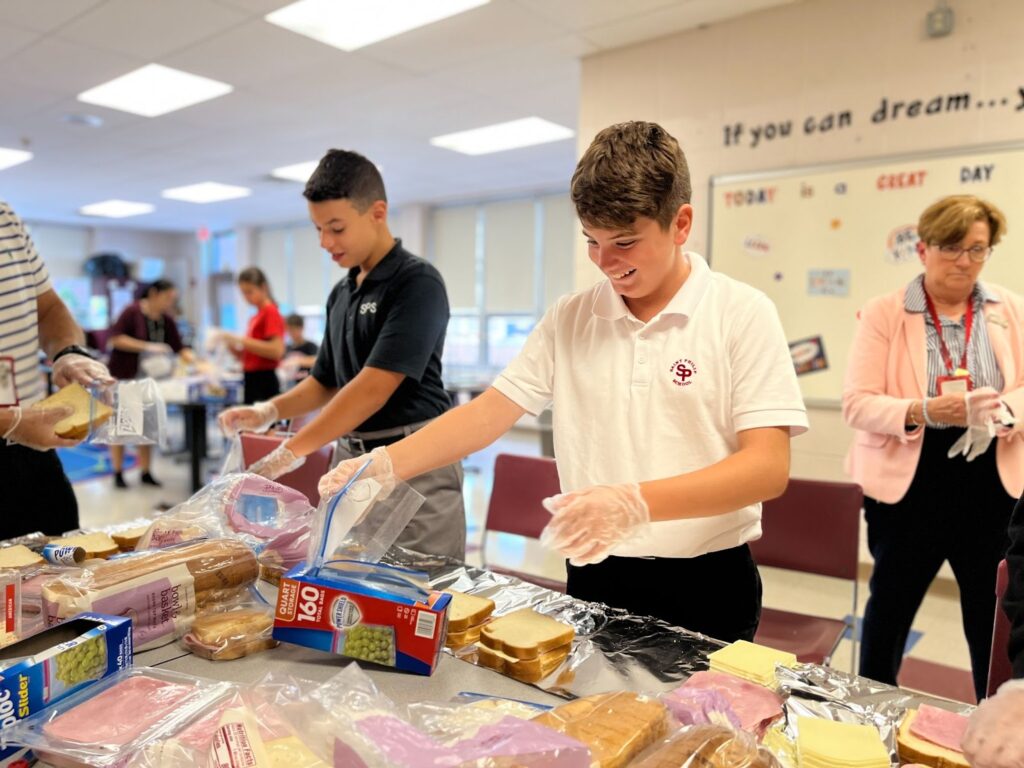 Our 'Club Sandwich' program allows Saint Philip students and their families in all grades to donate items such as bottled water, fruit cups, granola bars, cheese or peanut butter crackers, and other items for several after-school meal-making sessions during the year. Under the direction of staff members, middle school students volunteer to assemble sandwiches and these extra items into hundreds of 'bag lunches', which are then delivered for distribution to the homeless in the Providence area.
As partners in the Church's mission to respect and protect life at any age, in any circumstance, and with compassion and dignity, Saint Philip School's 'Gabriel Project' collects items for expectant and new mothers all year long and regularly donates the items to the Rhode Island Right to Life Organization's Mother of Life Center.
Participation in our annual 'Star in the Manger' Christmas project allows students to choose a star during the school's annual Thanksgiving Prayer Service. Families purchase a gift card (amount determined by what the family feels it can reasonably afford) from the store listed on the front of the star. The gift cards are then donated to our brothers and sisters in Christ who are in need of assistance to make the holidays special for their own families.
The Saint Philip School chapter of the National Junior Honor Society organizes a 'Souper Bowl' project every January. Students in all grades "vote" for the team they would like to see win the National Football League Super Bowl game by bringing in a can of soup and placing it in their favorite team's designated bin. Donations are used to help stock the Saint Vincent de Paul Food Pantry of Saint Philip Parish.
Saint Philip School Prayer Line
Parents, faculty, and staff are invited to become members of the Saint Philip School Prayer Line. This is an email group created by the Cardinals Club dedicated to praying for the intentions of the Saint Philip School Community. Prayer requests are submitted and assembled into a weekly email for members to pray at a time of their choosing. If you have a prayer request, or would like to become a member of the prayer line, please send an email to prayerline@stphilipschool.com or you may also fill out an SPS Prayer Line form and return it to the office.