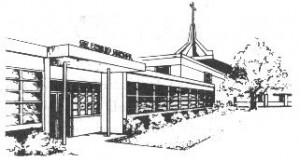 Saint Philip School opened its doors in 1960 when Rev. Joseph P. McNamara, pastor of the parish, invited the Sisters of Mercy to staff his new school. Blessed and dedicated on January 15th of that year by the Most Rev. Thomas F. Maloney, Bishop of Providence, Saint Philip School initially served 189 students in grades 1-4. First staffed by four Sisters of Mercy, additional grades were added each year until all eight grades were filled.
In 1963, the first of many dedicated lay teachers joined the staff. The first lay administrator was appointed ten years later. Half-day kindergarten classes were added in 1984, and the kindergarten program was extended to a full day in September 1992. A demonstrated need for high quality and convenient before-and-after-school daycare for many of the students resulted in the development of an extended day program in January 1994. In response to the changing needs of the school's adolescent population, a middle school model was developed and adopted in grades 6, 7, and 8 in the fall of 1994. In January of 2001, a half-day preschool program was added which initially served the needs of three and four-year-old children. After a state-mandated change in the age requirement for enrollment of kindergarten students, a full day pre-kindergarten program was implemented. In 2016, a new three-year-old program, "Little Cardinals" was introduced with great excitement and interest from the school community.
Located on Route 44 in the village of Greenville in the town of Smithfield, Rhode Island, Saint Philip School now includes a cafeteria, gymnasium, and a state-of-the-art library/media center. It is accredited by the New England Association of Schools and Colleges.